Dental Implants
Dental implants can enhance your smile and rejuvenate your oral health after trauma or disease.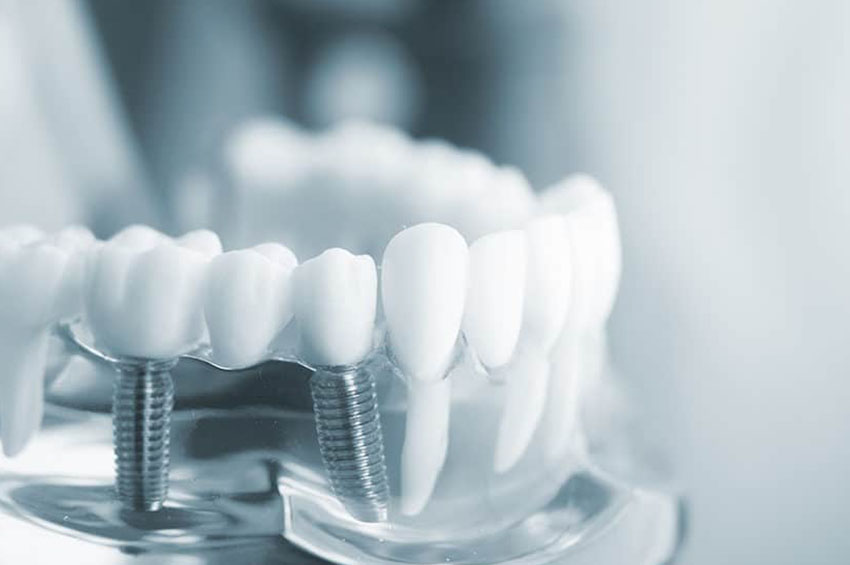 A dental implant is a fabricated tooth. Usually made of titanium, they are designed in the shape of a post and surgically placed into the jawbone where they hold synthetic replacement tooth.
Single or Multiple Implants
You can have one single implant, or if you are missing several teeth in a row, a few strategically placed implants can support a permanent bridge (a set of replacement teeth). A full bridge or full denture can be permanently fixed in your mouth if you are missing all of your teeth.
An ideal candidate for dental implants is a non-smoker who has good oral health, including a sufficient amount of bone in the jaw and healthy gums with no sign of gum disease.
Implant advantages
Conventional partial or full dentures can be unstable, which makes it difficult to smile or eat confidently. Implants not only look more natural, but also feel, look and act more like strong, natural teeth. Because they don't rely on neighbouring teeth for support, implants won't affect the health of your natural teeth.
Dental implants also keep your jawbone strong by replacing the tooth root in a way that reduces the bone loss typically associated with missing teeth. This is another reason it is important to replace missing teeth as soon as possible keeping bone loss minimum.
This is the case with both single implants or implant retained dentures.
Post-Treatment Care
In many ways, implant replacement teeth are like your natural teeth; they need to be brushed, flossed and protected from excessive forces. Also, there are times when special care is required to maintain them. Special brushes and advanced oral hygiene techniques are available and our team at South London Dental Care Centre will review with you how to optimally care for your implants.
Implants can withstand day to day stresses of biting and eating but can be damaged by abnormally high forces, such as those generated by nighttime grinding (bruxism). We encourage our patients that have dental implants to wear a night guard to protect their implants from fracture.
If you think you would benefit from dental implants, contact South London Dental Care Centre today at (519) 672-8770 to schedule your no-obligation consultation to discuss all of your options.
---
Visit us at our Office
As a family-run, second-generation dental practice, we pride ourselves on treating our patients the way we want our own family to be treated. We provide practical, honest advice you can trust and are always willing to discuss any concerns you may have regarding your oral health.
SEE YOU SOON
Because your first appointment is approximately 60 minutes, we ask that you fill out an online new patient form before you come in for your appointment. Thank you for allowing us to help you achieve the smile of your dreams. We look forward to meeting you!
This website uses cookies.