Frequently Asked Questions
What what age should I start taking my child to see the dentist?
The Canadian Dental Association encourages a dental assessment of infants within six months of the eruption of the first tooth or by one year of age.
How can I prepare my child for the first dental appointment?
The best preparation for your child's first visit to our office is maintaining a positive attitude. Show your child the pictures of the office and staff on the website. Let him or her know that it's important to keep teeth and gums healthy and that South London Dental Care Centre will help to do that.
Baby teeth aren't permanent; why do they need special care?
Although they don't last as long as permanent teeth, your child's first teeth play an important role in the way your little one speaks, smiles and chews, as well as holding space in the jaw for permanent teeth.
My child plays sports; how can I protect his or her teeth?
If your little one plays baseball, soccer or other sports, ask us about having a custom-fitted mouth guard made to protect the teeth, lips, cheeks, and gums.
Why is visiting the dentist so important?
Visiting the dentist regularly will not only help keep your teeth and mouth healthy, but will also help keep the rest of your body healthy. Dental care is important because it helps prevents tooth decay, periodontal disease, bad breath, while giving you a more strong, attractive smile.
How can I take care of my teeth between dental check-ups?
Maintaining your oral health between visits is very important and includes always remembering to brush with fluoride toothpaste and floss your teeth at least two times a day (including your tongue!), avoid tobacco and foods with a lot of sugar and to schedule routine check ups at least every six months.
A filling is a synthetic material, including composites, gold or ceramic, used to fill a cavity after all of the tooth decay has been removed.
What is cosmetic dentistry, and how is it different from general dentistry?
Cosmetic dentistry combines both art and science to give you the smile of your dreams. General dentistry is aimed at maintaining your overall oral health; however, cosmetic dentistry provides comprehensive treatment options that improve and preserve the way your smile looks and feels.
Common cosmetic treatments include:
Teeth whitening
Contouring/tooth reshaping
Bonding
Bridges
Veneers
Dental implants
Tooth-colored fillings
Smile makeovers
Crowns or partial crowns, also referred to as onlays, are needed when there is insufficient tooth strength to hold a filling. Your crown is created in a lab from your unique tooth impression, which allows a dental laboratory technician to examine all aspects of your bite and jaw movements. Your crown is then sculpted just for you so that your bite and jaw movements function normally once the crown is placed.
Do you screen for oral cancer at every visit?
Yes, at every visit we preform an oral cancer screening. This includes a visual examination, palpate tissues and biopsy tissues that are suspicious.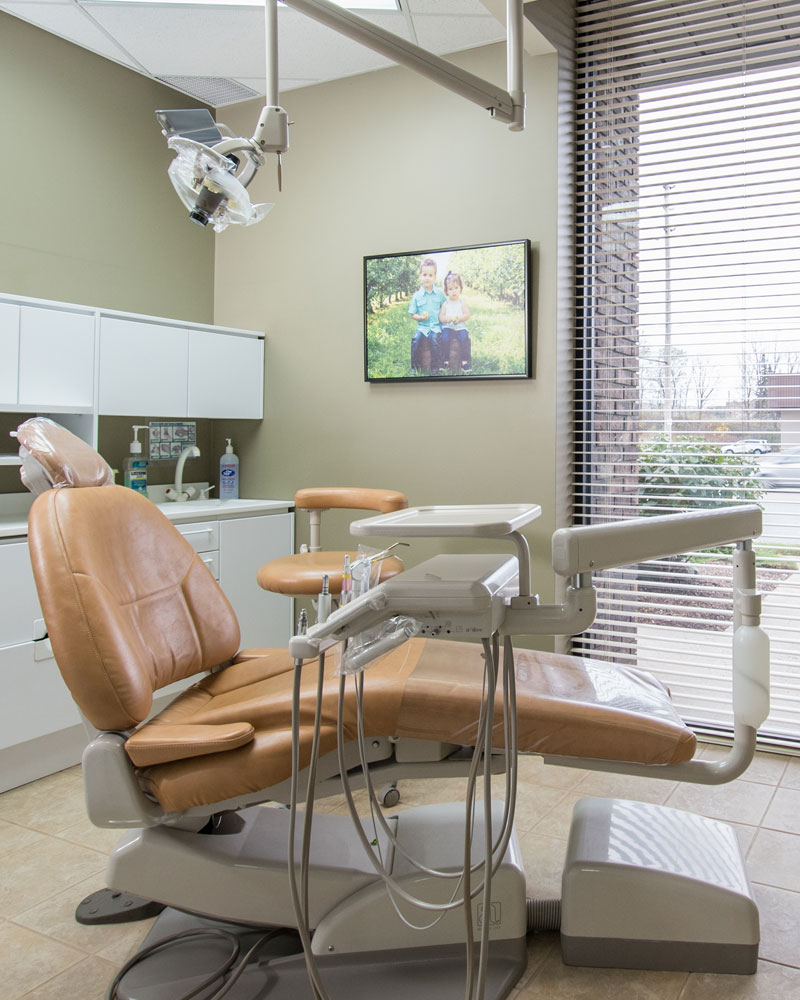 SEE YOU SOON
Because your first appointment is approximately 60 minutes, we ask that you fill out an online new patient form before you come in for your appointment. Thank you for allowing us to help you achieve the smile of your dreams. We look forward to meeting you!
This website uses cookies.